Dear Friends,
We are so pleased to share our Sing for Hope FY2022 Annual Report, which provides a snapshot of all that you make possible through your support of our work.
As you will see in the following pages, whether we are serving communities during the hardest days of the pandemic or working together to recover and rebuild, your generosity makes it possible for us to share hope where it's needed most. Over the past year, Sing for Hope's programs have continued to bring healing and connection to millions of people in healthcare facilities, vaccination centers, schools, refugee camps, transit hubs, and community spaces worldwide. Thanks to your support, Sing for Hope has been able to provide:
Artist employment in times of crisis: Responding to unprecedented levels of unemployment and underemployment in our sector, Sing for Hope emerged as one of the most robust employers of freelance musicians in the U.S. during the pandemic, and continues to be during the post-pandemic recovery period.
Arts for public health & wellbeing: Our dynamic programming inspires and uplifts thousands of people each day at Moynihan Train Hall, Port Authority Bus Terminal, Javits Vaccination Site, Department for the Aging, and other areas vital to ongoing renewal efforts.
Arts education & advocacy: Our Sing for Hope Lab, Youth Chorus, and Sustainable Development Goals Arts Curriculum fill the void in arts education for at-risk youth with daily arts classes, creative service learning, and special performances that elevate local and global youth in partnership with The United Nations.
Arts access: From the Bronx to Beirut, our beloved multi-modal Sing for Hope Pianos are creative hotspots that bring communities to life, revitalizing and connecting people across differences through their colorful harmonies.
Arts empathy & migration integration: Expanded in March 2022 in response to the war in Ukraine, our Creative Hope for Refugees program currently serves seven European cities (Nuremberg, Prague, Bucharest, Chișinău, Turin, Porto, and Lisbon) with therapeutic arts workshops, collaborative performances, and co-created Sing for Hope Pianos that welcome, engage, and comfort newly arrived Ukrainian refugee youth and families.
Sing for Hope's programs lie at the nexus of creative arts and humanitarian outreach, and act as delivery systems for hope, especially in times of crisis. Our work has never been more far-reaching, more impactful, or more worthy of your energies and philanthropy. This year, more than ever, your support is life-changing for Sing for Hope and the communities we serve.
On behalf of the individuals and communities we serve, thank you for your support.
With gratitude and determined hope,
Monica Yunus and Camille Zamora
Co-Founders and Co-Executive Directors, Sing for Hope
Click here for the Annual Report FY22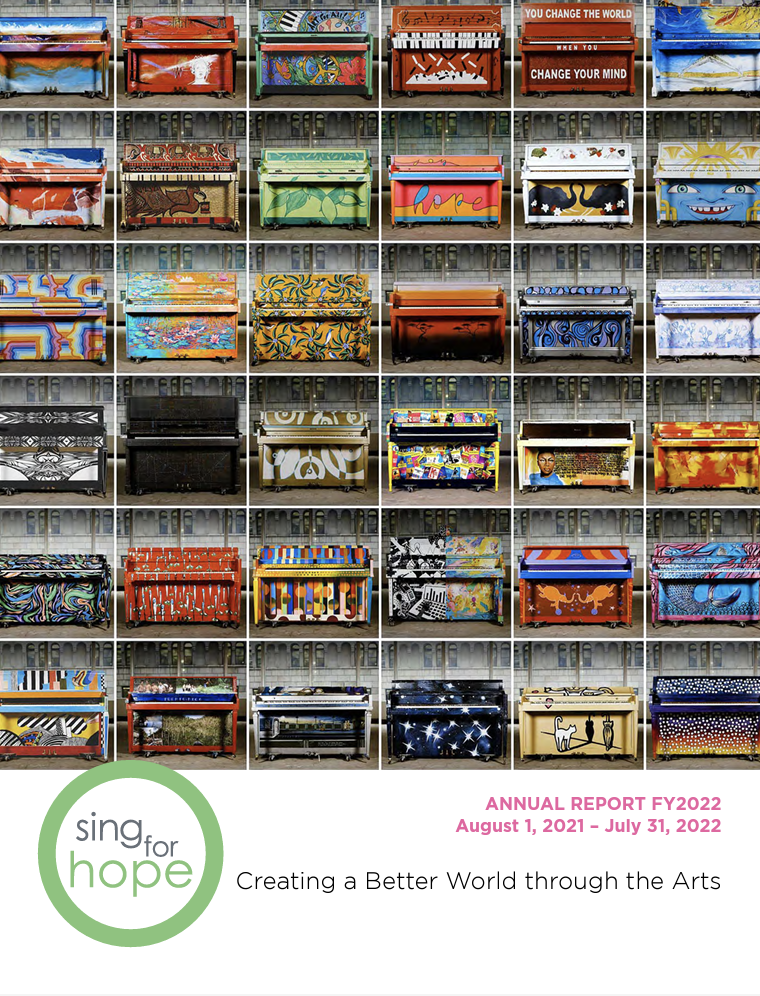 To make a donation in support of Sing for Hope and the communities we serve, please click here.