Sing for Hope is honored to be chosen by two great Joshes – singing superstar Josh Groban and 2021 American Winery of the Year Josh Cellars – as the beneficiary of their Josh-themed holiday charity campaign, Joshgiving! The $100,000 donation provided to Sing for Hope makes our hearts sing, coming as it does at a time of unprecedented need in the non-profit sector, and bringing vital support for our programming in under-resourced communities this winter.
Joshgiving is an initiative aimed at inspiring friends, families and communities across the nation to show their gratitude for one another. Throughout the months of October and November, the brand, led by founder Joseph Carr, is enlisting Joshes across the country, including renowned singer Josh Groban, to give back to the people and communities that enrich their lives by conducting meaningful acts of thanks in the lead up to the Thanksgiving holiday.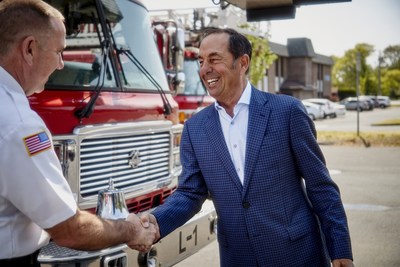 A brand rooted in gratitude, Josh Cellars was created by Joseph Carr as a tribute to his dad, Josh Carr. To honor his father's legacy of lifelong service and volunteerism, Josh Cellars consistently supports causes and communities that were important to Josh. To date, Josh Cellars has donated over $1 million to various charities and organizations through direct donations and annual charitable bottlings.
"My dad embodied the spirit of Thanksgiving every day of the year. He believed fervently in the power of people banding together for a good cause," said founder Joseph Carr. "It will be inspiring to witness all of these acts of thanks come to life through Joshgiving. We hope this movement inspires a groundswell of goodwill this holiday season and beyond. I know my dad would be proud."
To help spread the word about Joshgiving, Josh Cellars and Joseph Carr are teaming up with a well-known Josh, global superstar and singer, actor and philanthropist Josh Groban. For his act of thanks, Josh Groban has partnered with Josh Cellars to donate $100,000 to Sing for Hope, a nonprofit that harnesses the power of the arts to create a better world. The organization brings artists in creative service together to impart hope, healing, and connection to community spaces through music. As part of his Joshgiving activation, Groban is working with Sing for Hope to customize a piano, uniquely designed by Laishan Ito, to be donated to a community in need. Each Sing for Hope Piano is a representation of the organization's mission to uplift lives and bring joy to people through the arts.
"I'm excited to collaborate with Josh Cellars for Joshgiving," said Josh Groban. "I believe strongly in the ability of music to uplift and bring joy to all people everywhere and I'm grateful to be able to give back this Thanksgiving in partnership with Sing for Hope, Josh Cellars, and fellow Joshes across the country."
Thank you so much to both incredible Joshes – Josh Groban and Josh Cellars – for believing in Sing for Hope and in the power of the arts to create a better world. Happy Joshgiving to all!