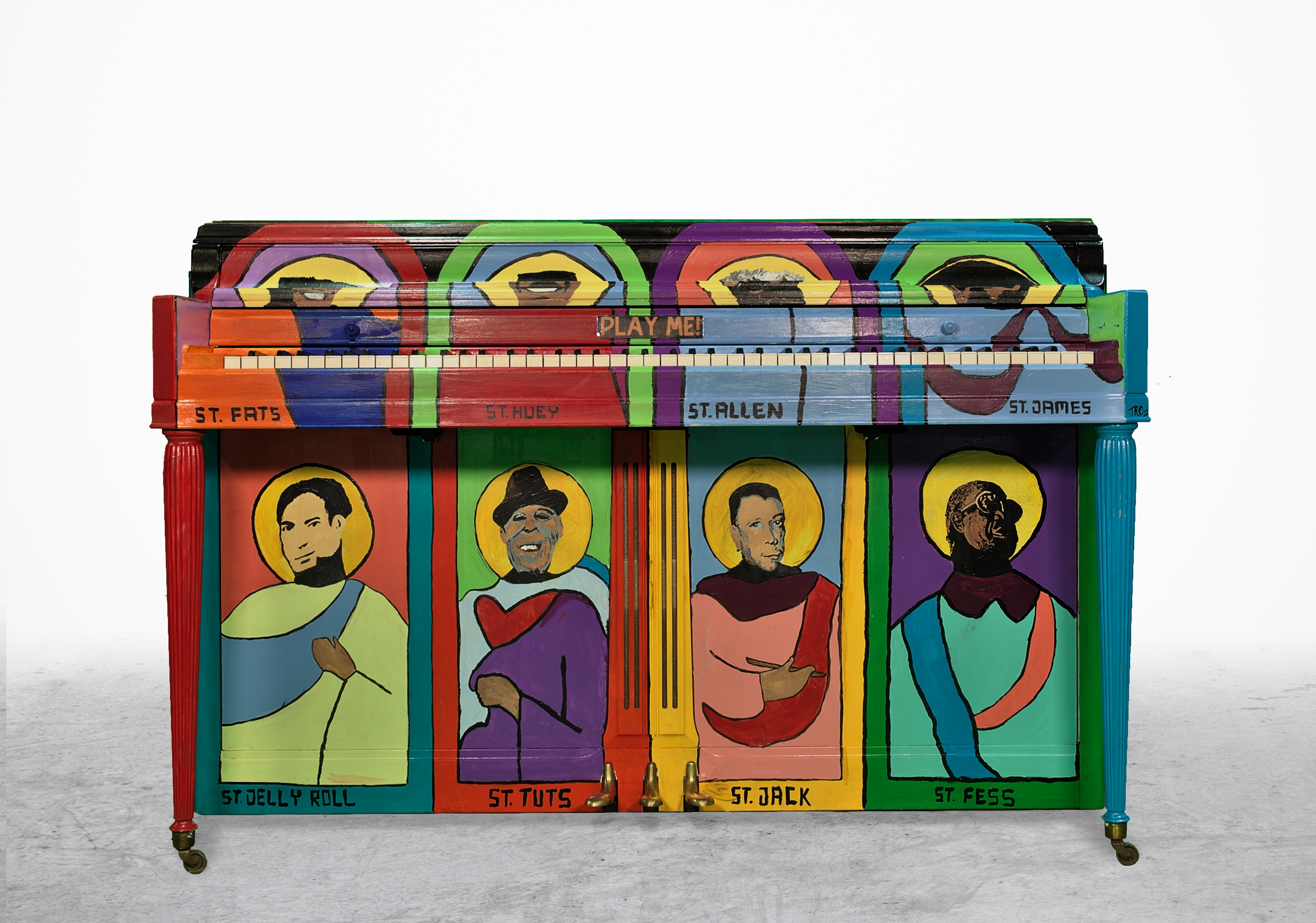 Artist Statement: This piano was purchased new in 1963 by my grandparents for my mother to start taking piano lessons at the age of 7 in Jackson, MS.  My mother played piano growing up, and I remember her playing at home and in our local church when I was a child. She is a talented pianist who still enjoys "tickling the ivories". This piano was passed down through our family for 3 generations. We chose a background of Church-inspired stained glass panels to honor my maternal grandparents and my mother's Christian faith. This design aesthetic is also informed by my paternal great-grandparents who immigrated to New Orleans from Sicily in the 19th Century, were all devout Catholics, and who looked to stained glass artwork for comfort and hope and inspiration for thousands of years in both the Old and New Worlds. Fast forward to 2022: who better to inspire in those stained glass windows, specifically on a piano? The "12 Apostles of New Orleans Piano", dat's who. The foundation musicians who started it all are featured at the base of the piano: Jelly Roll Morton, Tuts Washington, Champion Jack Dupree, and Professor Longhair. The upper row over the keys features Fats Domino, Huey Piano Smith, Allen Toussaint, and James Booker. The top of the piano features Dr. John and Henry Butler. The side panels feature our most recent torch-bearers of New Orleans piano: Jon Batiste and Harry Connick Jr, who continue to promote our rich heritage to the world with their musical gifts. This piano project was a group effort involving my family, including my children, further honoring my grandparents, mother, and father. Family gatherings full of laughter, love and the music of the piano filled my childhood. 
The 12 Apostles of New Orleans Piano
Tracy Rao O'Donnell is a graduate of the New Orleans Center for Creative Arts (NOCCA), Ben Franklin High School, and maintains a BS from Our Lady of Holy Cross College as well as an M.Ed. from Southeastern Louisiana University. Tracy is currently a Students With Exceptionalities Consultant for the St. Tammany Parish Public School System. She is a fourth-generation New Orleans Native, mother of 4 extraordinary children, and the ecstatic wife of Doctor Gumbo.  She currently resides in the Faubourg St. John neighborhood of New Orleans, LA. This piano was a collaborative project with a very talented and loving family: born and chosen. Contributing Artists: Layla Buhler, Ayden Brandt, Sue Rao, Sally Buhler, Dylan O'Donnell, and Fionn O'Donnell.
More Sing for Hope Pianos