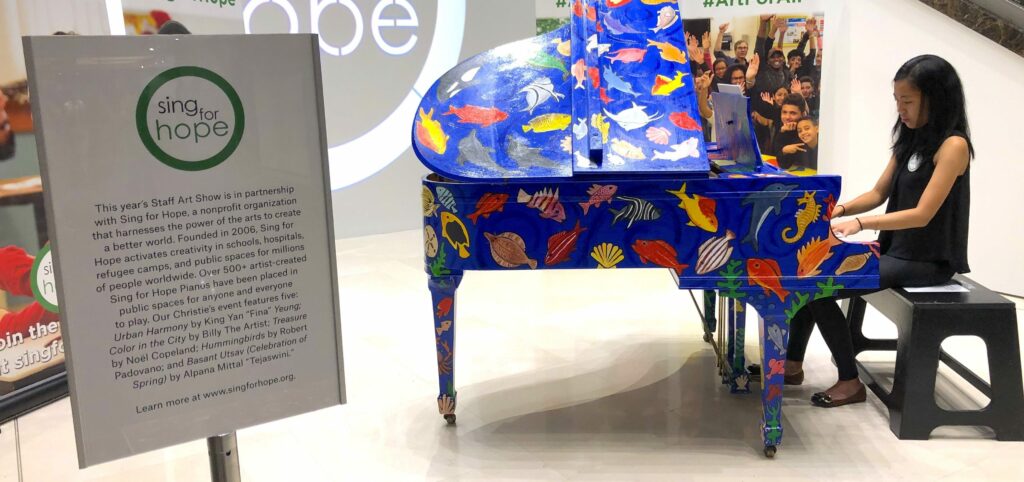 Christie's New York staff members put their own art on display at the company's annual "Inside Job" auction. The online auction featured nearly 100 artworks—also exhibited in Christie's galleries through August 5th—contributed by art handlers, contemporary art experts, appraisers, and others. Christie's selects a charity to receive partial proceeds from the auction each year; this year, they chose Sing for Hope.
"The show offers Christie's employees the opportunity to show their work in our gallery space while also raising money for Sing for Hope," Christine Broski, operations manager of special events at Christie's, told Barron's. "Artists can either sell their work through the online sale and show their work in the gallery, or choose to be a part of the exhibition only."
Sing for Hope is honored to receive partial proceeds from the sale, as well as to have featured Sing for Hope's art & artists during the exhibit. The exhibit featured five Sing for Hope Pianos, custom designed by King Yan Fina Yeung, Billy The Artist, Noël Copeland, Robert Padovano, and Alpana Mittal "Tejaswini." On August 1st, Christie's hosted an in-person event spotlighting the art and artists of "Inside Job." The event featured performances from Sing for Hope Artist Partners.