Famed Musician and Sing for Hope Board Member Jon Batiste Performs on the Brooklyn Public Library Steps at Grand Army Plaza in Celebration of Juneteenth
Batiste's "We Are: A Voter Registration Recital" is in Partnership with Sing for Hope and Features Batiste and Matt Whitaker Playing on Sing for Hope Pianos
Jon Batiste, bandleader of "The Late Show with Steven Colbert" and Sing for Hope board member, performed on the steps of the Brooklyn Public Library at Grand Army Plaza on Friday, June 19 at 7 pm in a special event celebrating Juneteenth and encouraging voter participation. Batiste was joined by 18-year-old prodigy jazz pianist Matt Whitaker in the "We Are: A Voter Registration Recital" presented in partnership with Sing for Hope.
Batiste and Whitaker played a dueling set on artist-created Sing for Hope Pianos by Christopher Wong and Billy the Artist. The event encouraged voter participation by providing opportunities for voter registration during the performance.
The Juneteenth recital follows "We Are: A Revival," a live performance at the Barclays Center protest in conjunction with Sing for Hope on June 12 and "We Are: The Protest," a peaceful demonstration throughout New York City led by Batiste with over 5,000 musicians, dancers and marchers on June 6. On June 12, Batiste also announced his powerful new song, "We Are," released through Verve Records.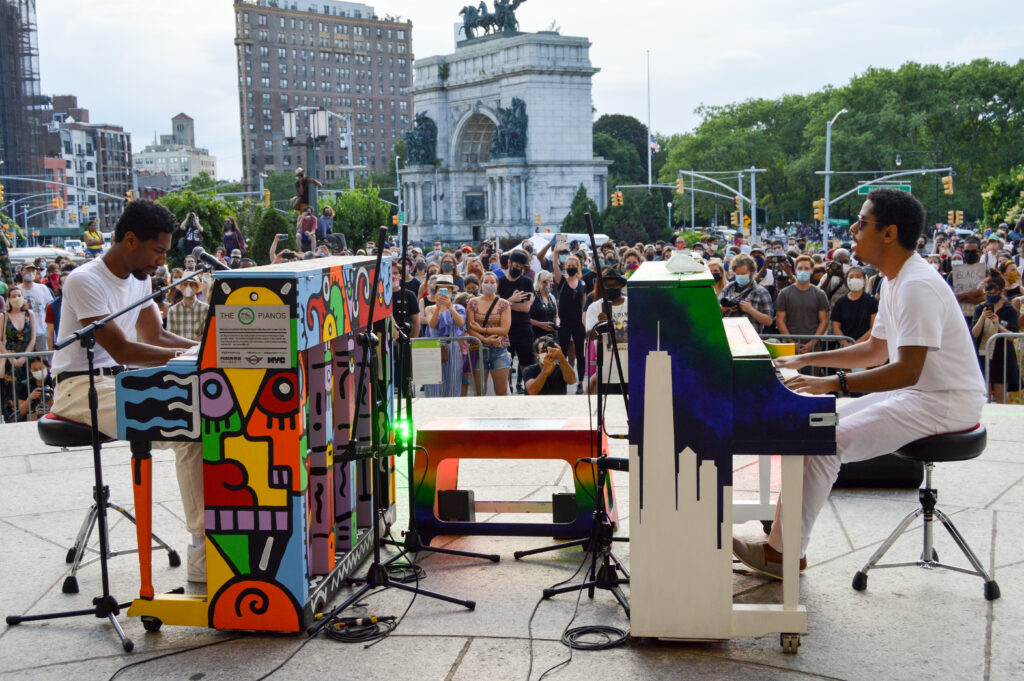 Jon Batiste plays a Sing for Hope Piano by Billy the Artist & Matt Whitaker plays a Sing for Hope Piano by Christopher Wong