The United Nations High Level Political Forum on Sustainable Development opened the UN General Assembly Hall with its first-ever youth musical performance—The Sing for Hope HandaHarmony Chorus performing "Dream Big, Speak Loud," Sing for Hope's iconic anthem. With the walls of the UN General Assembly Hall resonating in harmony, the students channeled multiple musical genres and delivered a powerful call to our world leaders to "dream big and speak loud" for our shared global future.
The Sing for Hope HandaHarmony Chorus performance marked the first time that a youth arts performance has been part of an actual HLPF convening of global leaders in the UN General Assembly Hall. The historic performance featured 60 New York City youth, aged 8 to 18, who were chosen from SFH's partner schools across New York, including PS 191, LaGuardia High School, and Amani Public Charter School, home to the Sing for Hope Lab. They conducted by renowned choral educator, LaGuardia Chorus Director and Sing for Hope HandaHarmony Chorus Director Darryl Jordan, with support provided by esteemed arts educators Sharon Daley Johnson and Casey Reed, all led and coordinated by Sing for Hope Education Director Sharyn Pirtle.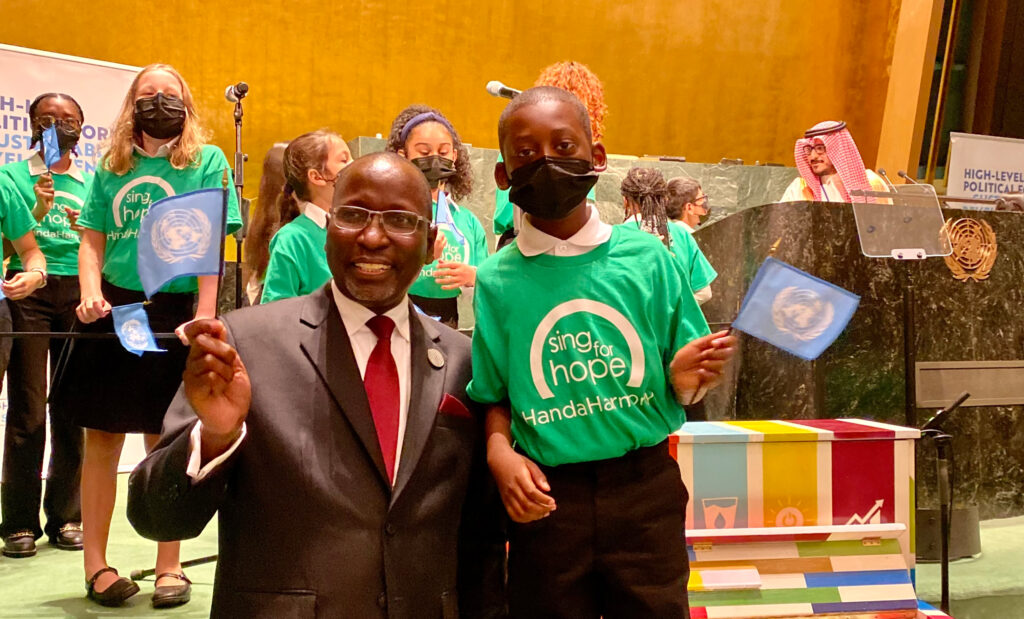 The performance accompanied the presentation of the first SDG-themed Sing for Hope Piano, created by Sing for Hope artist partners Chris Soria and Danielle McDonald, and made possible by a permanent gift from The Kingdom of The Netherlands to the United Nations. The instrument will remain as a permanent part of the collection of The United Nations made possible exclusively by gifts from Member States. The SDG-themed Sing for Hope Piano, entitled HandaHarmony in honor of Sing for Hope's Global Youth program and its Global Patron Dr. Haruhisa Handa, will enliven the SDG Studio at the UN Headquarters with its vibrant music and Soria and McDonald's brilliant visual design based on the 17 SDG icons and color wheel.
Ms. Annemarie Hwa Hou, Executive Director of the United Nations Office for Partnership, championed the initiative, which was supported by the Associate of the Secretary-General's SDG Advocates Solmy Lee and spearheaded by Joop Theunissen, Deputy Chief, Intergovernmental Policy and Review Branch, DESA.
They were joined for the ribbon-cutting by SFH Co-Founder Camille Zamora and the esteemed Prime Minister of St. Maarten Silveria Jacob, an impassioned advocate for the arts.
Addressing the importance of the initiative, Dr. Muhammad Yunus, 2006 Nobel Peace Laureate and Sing for Hope founding board member, offered powerful words: "The creative arts, especially as practiced and developed by our young people, act as a vital tool in our progress toward the Sustainable Development Goals. The inclusion of our students' voices–literally and metaphorically–in convenings on our shared global future is powerfully affirming for them. It is also symbolic for their families and entire communities, which have been among the hardest hit in the US by the COVID-19 pandemic. By allowing our youth to 'Dream Big, Speak Loud' with us through their artistry, we all take renewed inspiration and strength for our path ahead in this Decade of Action."
In the final speech that concluded the UN High Level Political Forum on Friday, Deputy Secretary General Amina Mohammed poignantly referenced the Sing for Hope performance and memorable choral refrain: "Today I, for one, feel a sense of anticipation. As our young singers sang for us several days ago in the General Assembly Hall, I also 'dream big, speak loud' of a better world. I am impressed with what has been achieved at this year's HLPF. Let's all dream big and speak loud. Thank you."