Sing for Hope was honored to join Washington, D.C. Mayor Muriel Bowser and Union Station Redevelopment Corporation CEO Doug Carr to kick off the new Sing for Hope concert series at Union Station, designed to welcome visitors and revitalize public space in downtown D.C. Highlighting Jazz Month with performances by some of the city's brightest jazz talent, the public event in the station's Main Hall focused on the power of a robust creative economy to ensure a thriving city.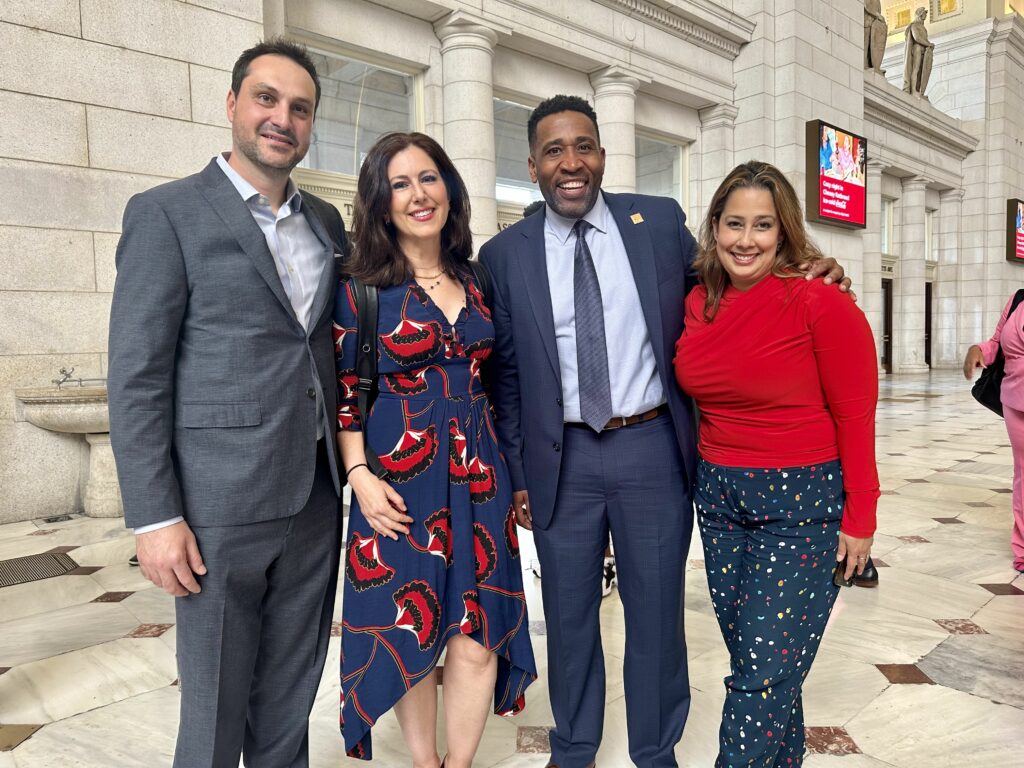 Introducing the Mayor's stirring words were D.C. cultural leader Angela Stribling and Office of Cable, Televison, Film, Music, and Entertainment Director LaToya Foster. Also on site for the celebration were Interim Deputy Mayor for Planning and Economic Development Keith A. Anderson; Union Station's Leandro Zucchi, Jennifer Rouse, and General Manager Matt Barry; and Helen Twingley of Sound Color Story. Speeches focused on the Mayor's Comeback Plan, which leverages creative arts activations to revitalize the city and its people in the post-pandemic era.
"Union Station's partnership with Sing for Hope is designed to spark moments of joy for the thousands of locals and visitors who pass through the station each day. We're thrilled to kick off this partnership with today's jazz performance as a preview of what's to come in the weeks ahead and throughout the year," said Union Station Development Corporation President and CEO Doug Carr.
"Sing for Hope is honored to join Mayor Bowser today in support of her vision that brings the arts, and artists, directly into our daily lives. Our partnership with Union Station will welcome the world to our nation's capital with weekly concerts highlighting D.C.'s richly diverse musical landscape," said Sing for Hope Co-Founder Camille Zamora
"The Sing for Hope program at Union Station represents a sustained commitment to arts and culture in the heart of one of our nation's most important transportation hubs. We're deeply inspired by Mayor Bowser's ethos of arts and culture as an engine for community-building. Sing for Hope's program at Union Station will do just that, and provide robust employment for artists along the way," said Sing for Hope Co-Founder Monica Yunus
Sharing the day's brilliant inaugural performance was Elijah Jamal Balbed, native of the DMV area and one of the premiere jazz artists in Washington. Winner of the 2020 D.C. Jazz Prix Competition, Elijah was joined by his JoGo Project musical collaborators.
Sing for Hope's next musical performances at Union Station will be on April 20th, 26th, and 27th, with mutliple weekly concerts beginning in May. For more information, visit singforhope.org.