We are thrilled to announce today's launch of our partnership with Little Island, NYC's breathtaking new park on the Hudson River. Little Island will feature two new SFH Pianos created by noted artist, architect, and educator Jieun Yang — one upright that will be open for anyone and everyone to play, and one special Steinway grand (donated by SFH Board Vice-Chair Andrea Jung) that will serve as the instrument for the park's 700-seat open-air amphitheater.
You may remember Jieun Yang's beautiful 2019 SFH Piano, which had its 2019 summer home at Four Freedoms Park on Roosevelt Island and now lives at Port Authority Bus Terminal. At this link, you can take a peek at Jieun's beautiful design, entitled "Reflections." Her design was selected by the Little Island team from submitted proposals, and it is based on her synthesis of the forms and colors of Little Island's unique architecture and Hudson River location.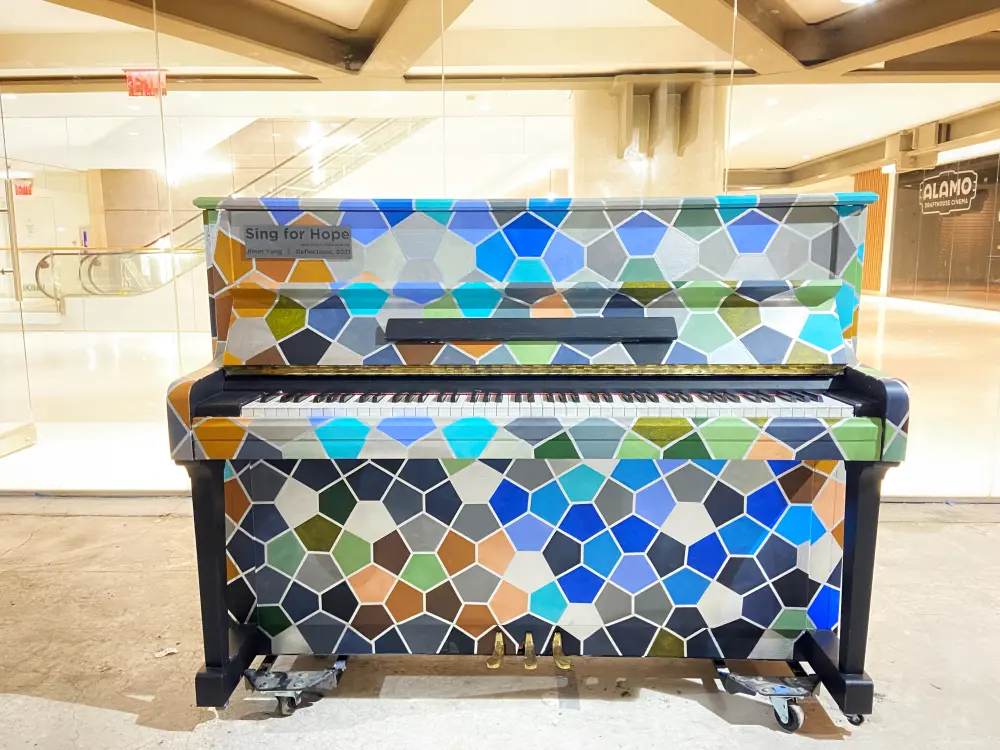 Jieun explains, "Little Island's 132 bell-shaped concrete pods inspired the piece, each pod with a unique form and tessellation fused to create undulating topography floating above the water. 'Reflections' is ultimately an homage to New York City, its people, and its history. Especially after a strange year filled with grief and isolation for many New Yorkers, Reflections is a vehicle for the collective celebration of shared objects, spaces, and experiences. It honors human fragility and strength. And its scattered reflective fragments feature bits and pieces of the excellent company surrounding us – our city and fellow citizens."
Speaking from our hearts, today's launch feels like a potent moment and symbol for so many reasons. Little Island and its SFH Pianos speak to the creative resilience of our city. They speak to the regenerative nature of our world, its natural beauty, and our innate capacity to keep working, striving, iterating, finding our way. They speak to our desire, our need, to come together in person, safely, in open air, with harmony.
There is an added layer of resonance in the fact that, after a year of unprecedented violence in so many communities, May is designated in the United States as Asian American and Pacific Islander Heritage Month.
Our SFH Pianos at Little Island
happen to center the work of some of the great AAPI leaders in our Sing for Hope family: Jieun Young as leading artist and educator, Andrea Jung as leading philanthropist and strategic visionary, and SFH Pianos program director Lester Vrtiak, whose great work and unflagging good cheer underscore so many elements of the program.