"The Sing for Hope Pianos are the flowers of New York City. To create art on the piano, and then just give it to everyone, that is an amazing way to process the trauma that we've been living through over these past many months… If painting a piano and leaving it on the streets isn't addressing our hearts—our love and our pain and our need to connect—then I don't know what is."
— Daphne Rubin-Vega, In the Heights film star, Broadway icon, and 2021 Sing for Hope Art for All Awardee
Celebrated Broadway Actress and Singer Daphne Rubin-Vega to Receive 2021 Sing for Hope 'Art for All Award'
NEW YORK – September 21, 2021 – The beloved Sing for Hope Pianos will return to 28 Liberty Plaza on Wednesday, September 29, from 9 a.m. to 6 p.m. when Sing for Hope launches 10 artist-designed pianos for anyone and everyone to play as a one-day-only special event. Each of the 10 pianos celebrate a past collaboration with New York City artists. Sing for Hope will also present its Art for All Award to actress, dancer and singer-songwriter Daphne Rubin-Vega at the event.
Each year, Sing for Hope selects local and international artists to design and paint pianos that are placed in parks and other public spaces for all to play. Through a special partnership with the New York City Department of Education, Sing for Hope then places all of the Sing for Hope Pianos in permanent homes in public schools to benefit thousands of New York City school children. Sing for Hope Pianos – first launched in 2010 – has become one of the world's largest annual recurring public arts programs, with more than 500 one-of-a-kind piano artworks placed in public spaces from The Bronx to Beirut, and Aspen to Athens, supporting local visual artists and creating music experiences for all ages.
The Sing for Hope Pianos to be featured include pianos created this year and in previous years by New York City artists, including Robert Padovano, Victoria Wrubel, Morgan Winter, Julia Cocuzza, Nupur Nishith, Alyson Fraser Diaz, Jieun Yang, Imani Shaklin Roberts, Christopher Spinelli, and Gily Gil-Lugo.
Sing for Hope Co-Founders Camille Zamora and Monica Yunus will kick off the festivities on the 28 Liberty Plaza, which will feature pop-up performances throughout the day by a range of performers including artists from The American Opera Project and other institutions. The American Opera Project's pop-up will feature compelling selections from the forefront of contemporary opera performed by bass Kofi Hayford, soprano Justine Aronson, tenor Timothy Stoddard, and Music Directors Mila Henry and Kelly Horsted. Visitors and area residents are invited to enjoy the performances, and play the pianos alongside these accomplished musicians.
"We are pleased to work with Sing for Hope and other organizations to foster 28 Liberty's role as a center for arts and culture in Lower Manhattan," said Thomas Costanzo, executive president, global partner, Fosun Hive Holdings. "Sing for Hope's piano exhibition on the Plaza is a powerful positive experience for the Lower Manhattan community and all of New York City."
"Being able to share music and art in person right now feels like a gift, after these past 18 months spent largely in isolation and without the joy of live music. It makes our hearts sing," said Sing for Hope Co-Founder Monica Yunus. Fellow Sing for Hope Co-Founder Camille Zamora added, "These ten beautiful Sing for Hope Pianos feel like a symbol and celebration of New York's creative resilience. The arts will always be front and center in New York, and we can't wait to celebrate that with the public on Liberty Plaza on the 28th."
The 2021 Sing for Hope Art for All Award will be presented to Daphne Rubin-Vega, the iconic Broadway actress who recently appeared in Lin-Manuel Miranda's movie musical In The Heights, and who has been a vital supporter of Sing for Hope's mission. A special, surprise musical performance will honor Rubin-Vega's dedication to harnessing the power of the arts to create a better world.

To ensure the community can gather in a safe and healthy way, there will be a hand sanitizing station on the plaza. Further signage outlining safety protocols for the event will be present.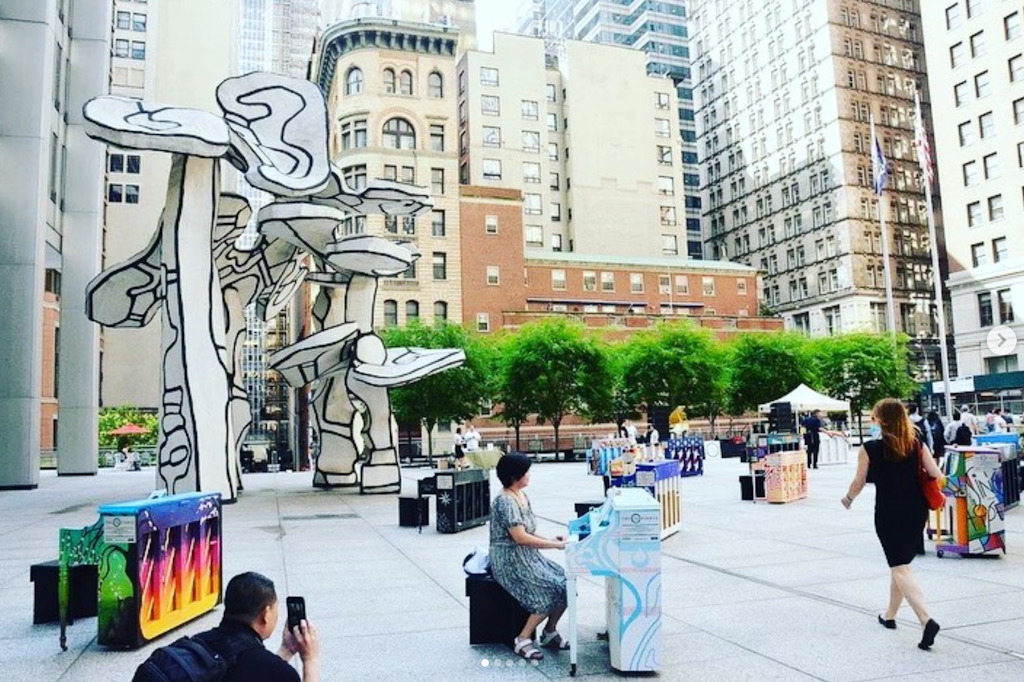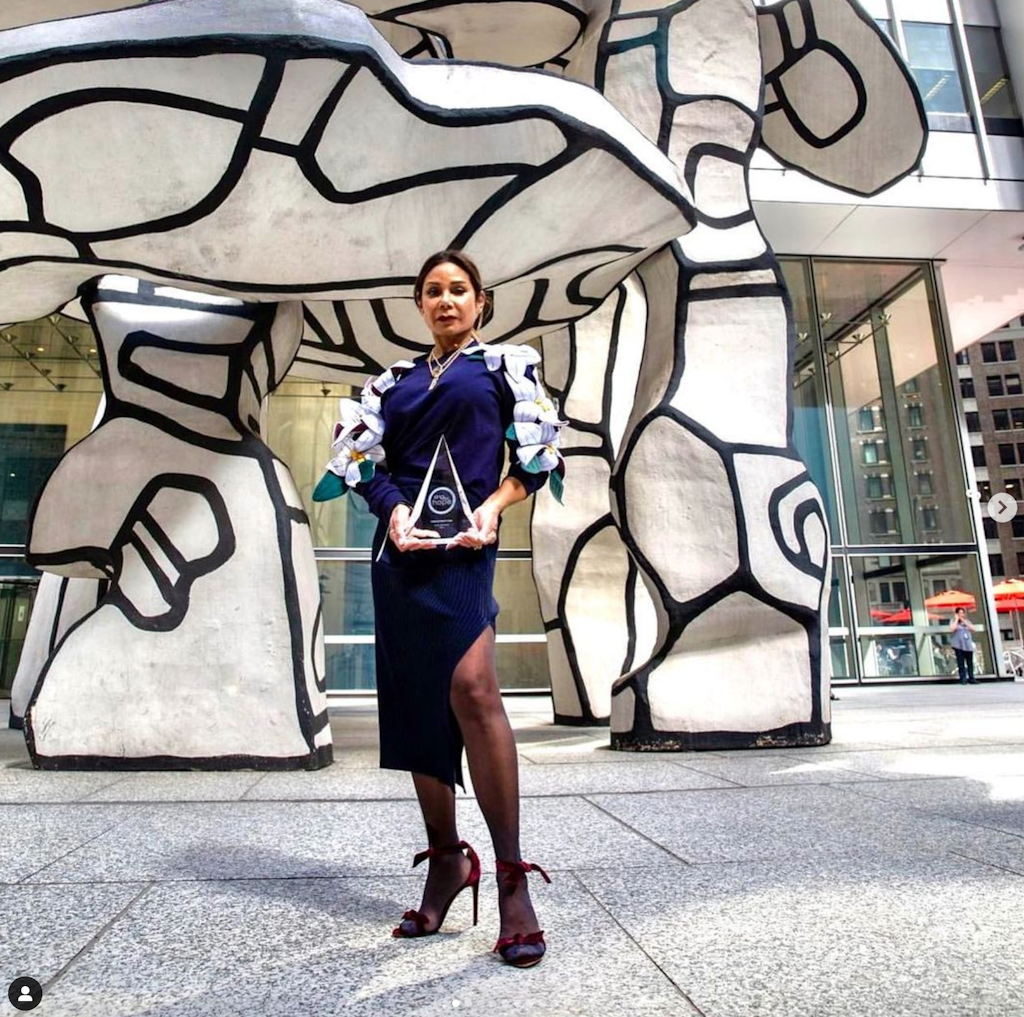 About 28 Liberty
28 Liberty, at the heart of downtown NYC, is the go-to destination in Lower Manhattan for recreation and best-in-class dining. The office tower's 2.5 acre Fosun Plaza hosts a variety of community events throughout the year, from food festivals to arts programs to educational experiences and more. The 38,000-square-foot penthouse is home to restaurateur Danny Meyer's latest endeavor, Manhatta, a restaurant and bar with sweeping panoramic views of the NYC skyline, and featuring a multifunctional event space accommodating up to 800 guests at three simultaneous gatherings. Alamo Drafthouse Cinema and Food Hall is among the tenants of the new 200,000-square-foot retail space at the base of the building. 28 Liberty is also bringing in over 30,000-square-feet of various food and dining options on the ground floor retail space. Whether exploring the latest cultural event or sipping cocktails at sunset from the 60th floor, 28 Liberty always offers something new to discover.
About Fosun
Fosun was founded in 1992. Fosun's mission is to provide high-quality products and services for families around the world in health, happiness and intelligent manufacturing segments. Fosun International Limited is an innovation-driven consumer group that has been listed on the main board of the Hong Kong Stock Exchange (00656.HK) since 2007. Fosun International ranks No.459 on the 2021 Forbes Global 2000 List.
About Fosun Hive
Utilizing "Hive City + Global Landscape" as its core strategy, Fosun Hive continuously leads the upgrading of industry-and-city integration. Through profound industry operations + industrial investment, Fosun Hive consolidates global industrial resources, focuses on customized industrial C2M model and well-positioned industries to promote the upgrading of urban industries and the high-quality development of the regional economy with the "Hive model".
For more information, please visit: www.fosunhive.com.