Largest Annual Public Arts Project in the United States featured free performances from Rwandan Women's Drumming Group, Sing for Hope Youth Choir, LaGuardia High School Choruses
NEW YORK, NY –
Sing for Hope brought its renowned Sing for Hope Pianos back to the streets of New York City this summer for public use before placing the pianos permanently in schools and community centers.
Twenty artist-designed pianos were unveiled at 28 Liberty's Fosun Plaza on Monday, June 12. The one-day-only event featured open-play for the public and pop-up performances throughout the day from artists like Lissa deGuzman of Broadway's Wicked and Aladdin, with a free concert at 12:00 p.m. from the pioneering Rwandan Women's Drumming Group, Ingoma Nshya, the Sing for Hope Youth Chorus and the choruses from LaGuardia High School of Music & Art and Performing Arts.
Each year, Sing for Hope selects local and international artists to design and paint donated pianos that are then placed in parks and other public spaces for all to play. The 20 Sing for Hope Pianos will be available for the public to play throughout the city, map below for reference and you can visit our webpage here, from June 12th until July 5th, after which they will be placed in their permanent homes in schools and community-based organizations across the greater NYC area.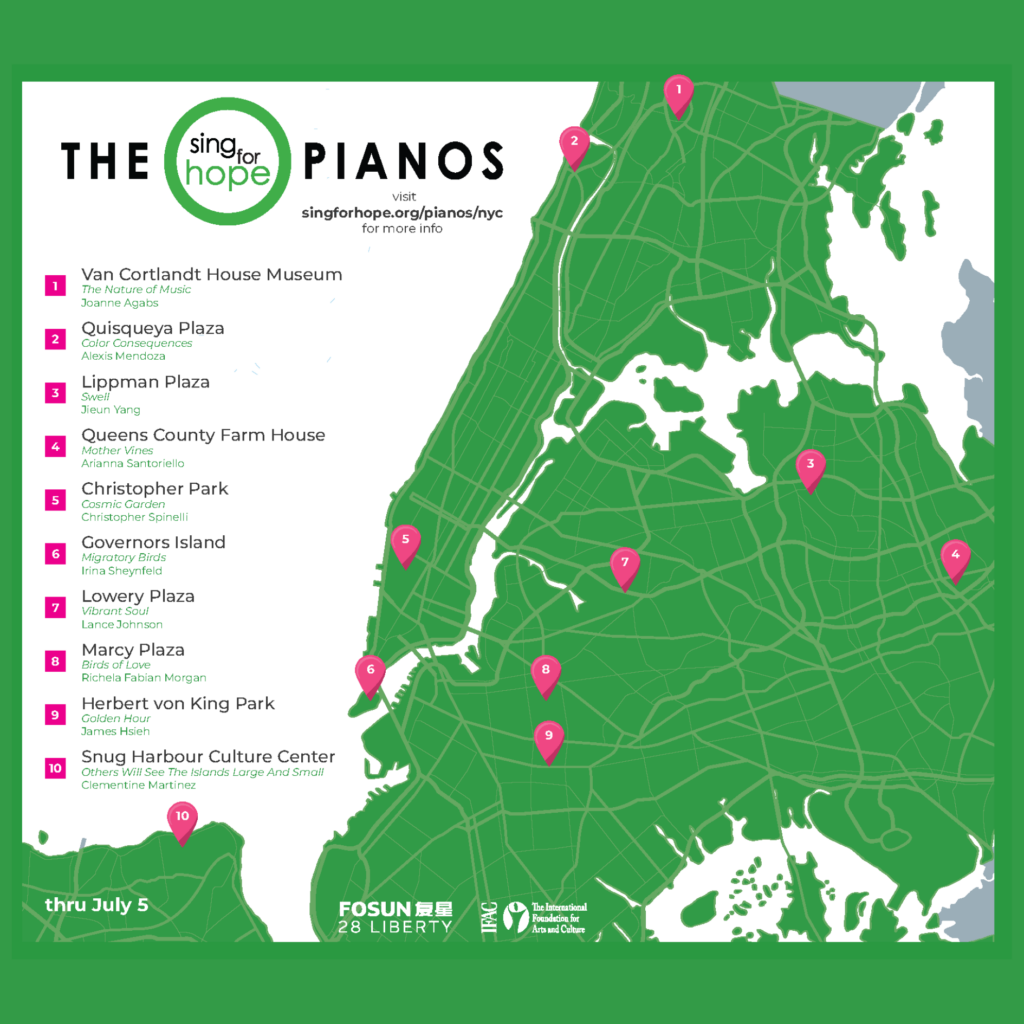 Sing for Hope Pianos was first launched in 2010 and is one of the world's largest annual recurring public arts programs, with more than 580 one-of-a-kind piano artworks placed in public spaces from The Bronx to Beirut. The program supports local visual artists while creating musical experiences for individuals of all ages and levels of experience.
The 2023 Sing for Hope Pianos have been designed by artists including Joanne Agabs, Billy The Artist, Patrick Freeman, Lance Johnson, Jun Kaneko, Clementine Martinez, Alexis Mendoza, Richela Fabian Morgan, Arianna Santoriello, Irina Shenyfeld, Christopher Spinelli, Cory Tyler, Morgan Winter, Christopher Wong, Victoria Wrubel, Jieun Yang.
Since 2015, Fosun Plaza has hosted Sing for Hope's annual event. 28 Liberty continued its support of "Sing for Hope" during the pandemic by delivering donated pianos to New York's Jacob Javits Center vaccination site, where live musical performances brought joy and eased nerves for those in line for vaccinations.
"The Launch of the Sing for Hope Pianos at Fosun Plaza has become a beloved tradition in the Lower Manhattan community," said Thomas Costanzo, Global Partner of Fosun and CEO of Four Trees Asset Management. "Making arts and culture accessible to the community is a priority for Fosun, and we are honored to partner with such a fantastic organization."
"Our mission is to bring hope, healing and connection through the power of music," said Sing for Hope Co-Founder Camille Zamora. "Anyone and everyone is welcome to join us for this spirited program on June 12th."
"The Sing for Hope Pianos are a celebration of New York's creative spirit, and we look forward to sharing these beautifully designed instruments with the community," said Sing for Hope Co-Founder Monica Yunus. "Music is a force that has the power to heal and inspire us all."
After the one-day-only event at 28 Liberty on June 12, the Sing for Hope Pianos will be available for the public to play from until July 5 on plazas across the five boroughs. New Yorkers and visitors can enjoy Sing for Hope Pianos at Christopher Street Park, Governors Island, Herbert von King Park, Marcy Avenue station, Lippman Plaza, Lowery Plaza, Queens County Farm Museum, Snug Harbor Culture Center & Botanical Garden, and Van Cortlandt House Museum.
We can't do it without you.​
Please donate today and help us bring hope where it's needed most. Every penny you donate goes to support our programming and the communities we serve.
---