As NYC public schools are poised to reopen, Sing for Hope celebrates with the sound of music by donating one of its famous, artist-designed Sing for Hope Pianos to the Business Technology Early College High School in Queens.
The first Sing for Hope Piano school donation in more than a year, since the pandemic shut down the city, was celebrated with a hybrid in-person/virtual ribbon cutting on March 11. Students Daniel Carvalho and Danela Munoz attended in person while 150 students joined via Zoom.
"I remember being in a school just like this, having organizations like Sing for Hope come in and make such an impact in my life. It is a great honor to now be a part of Sing for Hope coming in to make a difference in this space." – Sing for Hope Artist Partner Harold O'Neal
The beautiful piano, titled "Underwater Tune," was designed and hand-painted by Brooklyn-based artist Danielle Chèry and is one of eight iconic Sing for Hope Pianos that are being donated to permanent homes in NYC schools and community-based organizations after being displayed — and performed on — throughout The Shops at Hudson Yards during the 2020 holiday season in a partnership between Hudson Yards, SAP and Sing for Hope.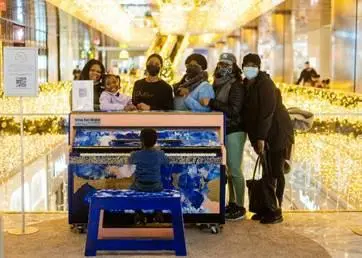 Today was symbolic day for us as a community. The physical space is a space where kids feel welcome, where they feel a sense of belonging, and I feel like today is the beginning of that rebuilding – BTECH Principal Patrice Henry
All Sing for Hope Pianos are gifted to public schools, healthcare facilities, and community centers where they inspire lives for years to come.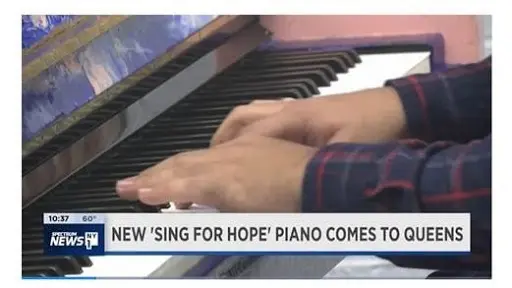 Click here to see our coverage on NY1
Please donate today. We can't do it without you.