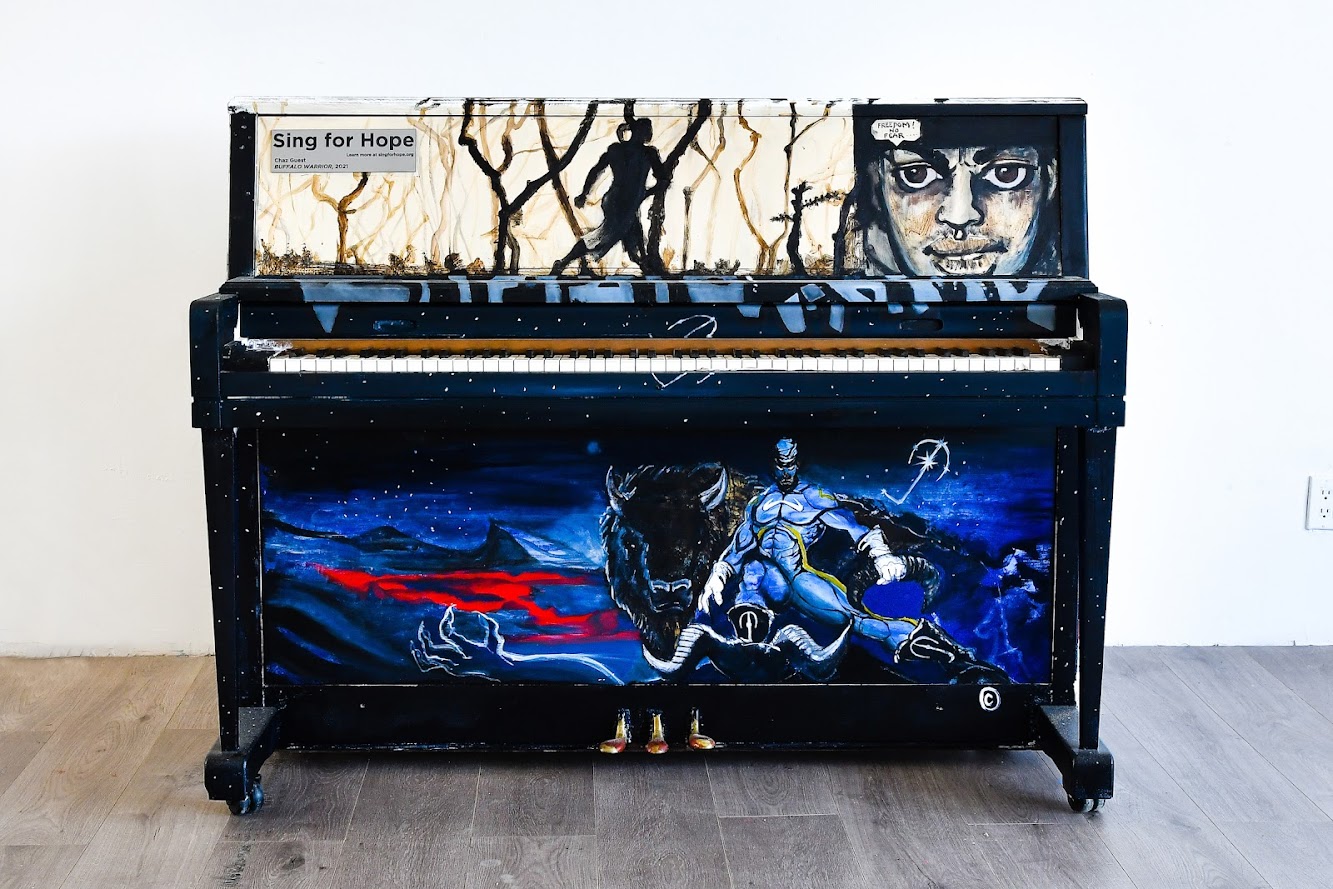 Artist Statement: The thing that really got me in here was the fact that when I was in the inner city of Philadelphia, I was the only one of the three boys that enjoyed music and art. I had to witness the government snatching those programs out of my school at the time. I actually postponed my trip to New York to do this piano because I think it's very important that this piano winds up in school and they see this superhero coming from this little boy that was in the cotton fields. That's going to start to teach them their true narrative, not from a European perspective, but from an African perspective—the perspective of our true history that's not so often told correctly.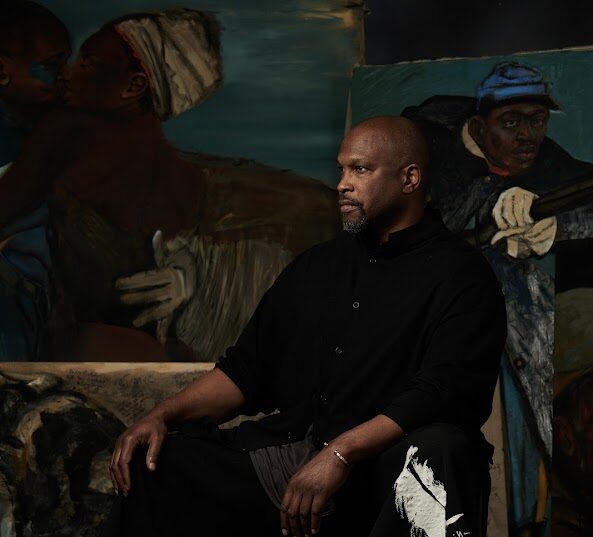 Chaz Guest is an American artist who works in the mediums of painting and sculpting. He is described by the Huffington Post as "an American artist of profound inventiveness."
Guest's parents are Algirtha Guest (born 1933) and Rev. Theodore James Guest (1922 – 2006). Guest's father, Rev. T. J. Guest, is a World War II Purple Heart recipient. Guest is the 7th of nine brothers and sisters. Guest graduated with a Bachelor of Science in Graphic Design from Southern Connecticut State University in 1985. Guest grew up in a quiet community in Niagara Falls, New York with his family. His parents divorced when he was ten years old. After the divorce, he moved with his mother and siblings to Philadelphia, Pennsylvania.
Guest has two sons, one born 1994 and one born 2003.
Guest received a Gymnastic scholarship to go to the Southern Connecticut State University (S.C.S.U.), to study Kinesiology and pursue a degree in Graphic Arts. He subsequently competed successfully in the U.S. Olympic program. After graduating from S.C.S.U., Guest moved to New York City, where he enrolled in a fashion design curriculum at the Fashion Institute of Technology. It was during this period that he honed his formal skills in drawing. While at the Fashion Institute, Guest made the acquaintance of Antonio Lopez. Lopez inspired and influenced his decision to seek work as an illustrator. Guest studied at the Fashion Institute for nine months.
In 1986, Guest moved to Paris, France to work as a freelance fashion illustrator. Guest joined Joyce Magazine as an illustrator for their magazine covers and was responsible for the illustrations of the JOYCE magazine covers for the 1987/1988 season. It was while working at Joyce Magazine that Guest met Christian Lacroix. Lacroix encouraged him to apply his illustrator skills to painting after Lacroix saw one of Guest's illustrations of couture designs done for Joyce Magazine. After the 1987/1988 season, Guest left Joyce magazine and moved to Dax, France where he started painting.
After leaving the Fashion Institute of Technology, Guest began studying the paintings of Pablo Picasso and Salvador Dali. Guest also studied the paintings of Balthus. In 1991, Guest sold his first painting to a passerby outside his Soho apartment.
Guest's first museum exhibit was a group show "Decoding Identity: I Do it for My People" (January 23, 2009 – March 22, 2009) at the Museum of the African Diaspora in San Francisco (MOAD).
Beverly Gardens Park: Art Block (August 5 - September 6, 2021)
Imagined Life Building (Delivered Fall 2021)
More Sing for Hope Pianos